Day At A Glance
Graduate Arrival
Please check the schedule of commencement ceremonies for the appropriate date and time.
Arrive at least 45 minutes before the processional start time, unless otherwise noted for your college. See Ceremonies by College for the processional start time.
Assemble in Lot 13, across from Parking Structure 12, north of the arena.
Once you have entered Lot 13, you will be directed to tables organized alphabetically by last name where you will pick up your graduate card. This is the card you will present to the SDSU representative who will scan the card prior to you crossing the stage.
College representatives will help to organize you in the correct processional line according to your major.
Graduates should arrive in their traditional, full academic regalia and should not bring purses or bags into Viejas Arena.
Valid ID Required
Due to stringent security measures, all students participating in commencement are required to present their SDSU RedID card (preferred) or a valid, government-issued picture ID in order to be admitted to Viejas Arena.

Please note, due to the transition to my.SDSU, you now also have a RedID number that is nine digits that begins with a 1. You can view your ID number in your my.SDSU account. Log in with your SDSUid and password and click the Profile tile. In the top left corner you will see the word ID and a nine-digit number. That nine-digit number is also your RedID. For entry to Viejas Arena, you will not have any issues presenting your RedID that begins with an 8.

Students who do not bring valid ID to Viejas Arena will not be allowed to participate in commencement.
Ceremony Overview
From Lot 13, the processional will enter Viejas Arena from one of two directions, providing a colorful view of candidates and faculty in their full academic regalia.
After arriving at your seat, please remain standing until you are signaled to sit down.
The ceremony will include remarks by the dean of each college and other speakers. University leadership will also present and confer degrees during the ceremony.
Graduates will have their name read aloud as they cross the stage. A live video of each graduate crossing the stage will appear on the jumbotron. Graduates will receive a diploma cover after crossing the stage and a professional photo will be taken by GradImages Photography.
The commencement ceremony will last between 90 minutes to two hours depending on the number of graduates in the college. Graduates and guests are encouraged not to exit the arena until the entire ceremony has concluded and should then plan to meet at a pre-arranged site. Please avoid congregating in the immediate area of Viejas Arena to eliminate congestion as guests arrive and depart from other commencement ceremonies.
Find out more about the assembly and processional.
Guests
Guests should allow plenty of time to park and find their seats. You may want to arrive to campus early and walk the campus grounds and take photos of your graduate at their favorite campus landmarks.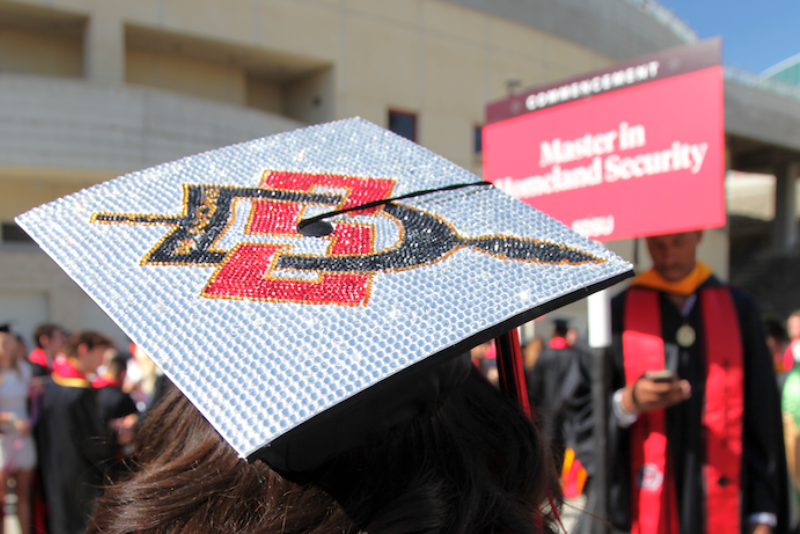 Friday, May 12
9 a.m.-4 p.m.
Saturday, May 13
7:30 a.m.-5:30 p.m.
Sunday, May 14
8:30 a.m.-2 p.m.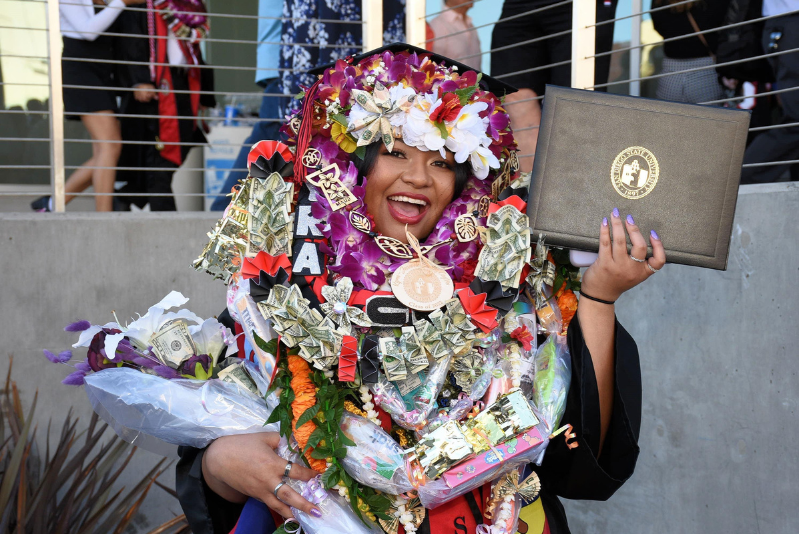 SDSU Regalia
The SDSU Bookstore will have a regalia table at Viejas Arena during the commencement ceremonies. This will be located at the graduates' entance in Lot 13 north of Viejas Arena.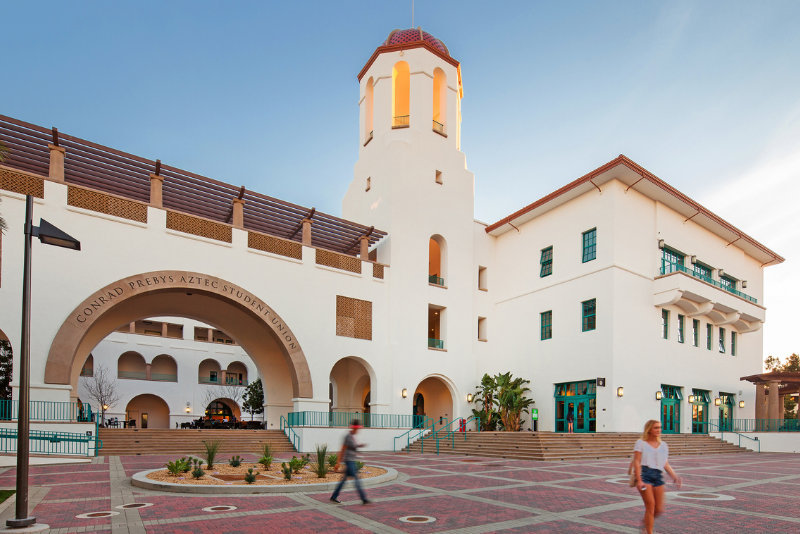 Need a caffeine fix?
For your enjoyment, Starbucks will be open at both the east and west campus locations.